Valentine's Day Gift Ideas
Forget celebrating Valentine's Day the "traditional" way! It's the 21st century, you should be celebrating and cherishing yourself and the girls in your life you can't live without. That's why I've put together this list of clean beauty gifts for Valentine's Day that you and your girlfriends will love.
Don't get me wrong, Valentine's Day can be pretty fun if you like to celebrate it with a significant other. But this often-depressing holiday has taken a shift more towards self-care and I am here for it! So don't forget to spoil yourself a little bit too.
Pin this image for later!
This post contains affiliate links. You can learn more here.
Should You Give a Gift on Valentine's Day?
I feel like this is a question we awkwardly ask ourselves about certain people this time of year. Chances are, if you're not sure you should get someone a gift and it never comes up between the two of you, then you're likely in the clear.
I cannot emphasize enough that communication is key for this! If you have a significant other, then this should be self-explanatory. Don't be afraid to broach the subject if it hasn't been discussed yet.
The same goes for any group of friends you have. If you're in a close-knit group of girlfriends, ask everyone how they feel about exchanging small gifts or getting together for a spa day with movies and snacks. It's a great excuse for some feminine bonding time!
Basically, I wouldn't worry about getting a gift for someone unless it's spoken about previously. If you want to get someone a gift, ask them what they like! It's much more fun to get something that isn't chocolate for Valentine's Day (although I wouldn't be mad about it).
What Are the Worst Valentine's Gifts?
I pride myself on being able to find gifts for people that they'll genuinely love. The best part is that it's not rocket science if you know the person decently well!
The worst gifts for Valentine's Day (or any holiday, really) are anything that screams "I didn't know what to get you, nor do I care to put effort into it, so I just grabbed something." Let me elaborate.
The first thing that may have come to mind is a gift card. Gift cards are totally fine!! I see gift cards as a safe bet because it gives the receiver complete control over what they get. It does require knowing the person at least a little bit to determine where to get the gift card, but let's hope you do for simplicity's sake. What I'm really getting at is you should not get any physical gifts in which the receiver has never expressed interest.
A perfect example that happened to me was a college roommate got me a mini Harry Potter backpack holding a mug with Anna and Elsa from Frozen on it. I had never told my roommate I was a fan of Frozen (I wasn't), and I vividly remember telling her that I hadn't read Harry Potter, nor did I find the movies that great (Don't come for me!).
While I was grateful that my roommate even thought of getting me a gift (we had a weird relationship), it could not have been more obvious that she ran through a department store and grabbed whatever was remotely appealing. Please don't do this! Seriously, when in doubt, a gift card is great. And you can get gift cards from the places these clean beauty gifts for Valentine's Day come from!
What Should I Get My Female Friend for Valentine's Day?
While chocolate is great, I think it would be a much more meaningful Valentine's Day gift if you got something fun, feminine, and non-candy. I know it sounds like I just eliminated your entire selection of Valentine's Day gift ideas, but hear me out.
Clean beauty gifts for Valentine's Day can be fun to give because it will make the person feel beautiful, loved, and they'll have something new to experiment with! Not to mention it might introduce them to the lovely world of clean beauty. 10/10 would recommend.
The list I have below covers some easy-to-buy-for areas, like Valentine's Day makeup collections, bath and body, and fun skin care gifts. There are both budget and higher-end options for each section, as well as an item I think is fool-proof and anyone will love.
Keep scrolling down and check them out! And if you're not loving anything on here, I've got loads of other gift guides. You can check out my Christmas gift guide, as well as my guide for the ultimate clean beauty gift basket. Now let's get into it!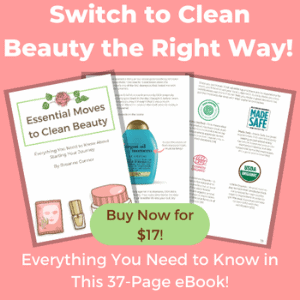 Fun Nontoxic Makeup Gift Ideas for Valentine's Day
Budget—W3ll People Nudist Eyeshadow Palette. I know that eyeshadow can be a bit of a toss-up because of the color, but that's why I recommend you go with a nude palette. This particular palette from W3ll People has colors that will look good on everybody and has amazing staying power. And it won't break the bank! Pretty much anything from W3ll People is clean affordable, which is why I wrote a review all about W3ll People's stuff.
Higher-End— Honeybee Gardens Nude Renaissance Palette. Honeybee Gardens has been one of my favorite clean makeup brands since the very beginning! When I found this palette of theirs at my Natural Grocer's, I found myself swooning. I'll admit that the colors might be a bit of a gamble, but I was pleasantly surprised at how natural it looks.
Budget—Clove + Hallow Lip Glaze. You simply can't go wrong with a good old-fashioned lip gloss! This lip glaze will do more than add some color and shine to your lips. It's formulated to act more like a serum than a gloss, which means your lips will be soft and luscious all day long. As someone who has perpetually dry lips, I really appreciate this.
Higher-End—Ilia Balmy Gloss Tinted Lip Oil. If you really want to spoil that special girlfriend in your life who loves lip products, then look no further! Ilia Beauty has made several award-winning makeup products, with this lip treatment being one of them. I like to wear it all day when it's cold out to protect my lips from cracking. Plus they look great in the process!
My Fool-Proof Suggestion—Ilia Limitless Lash Mascara. Yet another cult favorite of Ilia Beauty, this mascara has won several awards, and I can understand why! It lifts and separates my lashes perfectly while giving me just the right amount of definition. The colors of most makeup can make picking a gift a little tricky, but you can't go wrong with some fantastic mascara! I have even more clean mascara suggestions if you need some.
Bath and Body Gift Ideas for Your Girlfriends
Budget—Plant Apothecary Body Wash. If you have a girlfriend that loves her bath products but can't actually take a bath, some fun body wash is the perfect solution! I love Plant Apothecary because they're one of the few bodywash products that lather well and have a great ingredient list. It even has a slight gel feel to it, which is pretty rare and fun to use. Not to mention it smells amazing!
Higher-End— Herbivore Coco Rose Body Polish. If you've been following Essential Moves to Wellness for a hot minute, you know that I love to give sugar scrubs away as gifts. Well, this body polish is like my popular sugar scrub, but elevated into pure luxury! Scents of coconut oil and rose will transport you to a garden of pure relaxation with glowing, fresh skin. In case you couldn't tell, I love roses!
Budget—Kaia Naturals Sleep Hot Bath. Some of the best beauty gifts for best friends are elevated bath experiences! A box of luxury bath salts (or homemade ones!) can really show a person that you care about them. It's the perfect way to say, "Give yourself permission to relax!" These bath salts from Kaia Naturals has wintergreen and spearmint to rejuvenate you while promoting serious relaxation.
Higher-end—Osmia Soothing Tea Bath. You drink tea, so why not bathe in it? Seriously, you can get just as good benefits from soaking in some tea as if you had a nice heaping cup. If you have a girlfriend that needs some serious pampering or relaxing, this bath-sized tea bag of oats and Epsom salts will calm skin and relax muscles.
My Fool-Proof Suggestion—Bathorium Charcoal Garden Detox Crush. When in doubt, get a fun and sweet-smelling bath powder! Bathorium makes a great selection of bath crushes, which is a mixture of Epsom salts, powders, and essential oils to make a very fun and unique bath experience.
Valentine's Day Skin Care Gift Ideas
Budget—100% Pure Bright Eyes Gel Mask. One of the easiest Valentine's Day beaty gifts on this whole list has to be these gel masks. They're all the rage right now, and I can totally see why. Not only are they soothing to your sensitive eye area, but they look fun and trendy. You could get a pack for everyone on girl's day and have fun taking photos.
Higher-End—Ilia Lip Wrap Hydrating Mask. On a more serious note, this lip mask is a must-have is you suffer from dry lips. I especially like to apply this in the wintertime. In fact, I keep a container of this stuff on my nightstand and put it one every night when I climb into bed. It's a quick but effective form of self-care.
Budget—Gemstone Facial Roller. This is one of my favorite cute Valentine's Day ideas! If you've never heard of gemstone rollers, you can check out my guide on rose quartz and jade rollers. Are they extra? Probably. Do they work? You betcha! I love the cooling sensation of the stones every night after my bath. And my skin tone is so even and dewy!
Higher-End—Crystal Contour Gua Sha Stone. This is a more intensive version of gemstone rollers that are totally worth trying. You sweep the stone over certain portions of your face to get some blood flowing and encourage lymphatic drainage. I know that this seems like a trendy skin care gimmick, but Gua sha has actually been around for thousands of years.
My Fool-Proof Suggestion—100% Pure Green Tea Water Bomb Sheet Mask. This one is super fun and very hydrating to the skin. If you have a friend that loves unique skin care, you definitely can't go wrong with this one. And the plus side to this gift is that you can reuse it as much as you want! I kept mine for a long time in the fridge to provide some sunburn relief.
Final Thoughts on Clean Beauty Gifts for Valentine's Day
Depending on how well you know your girlfriends, any one of these items should make them feel super happy and loved! I tried my best to pick products that seemed like "safe bets," because I feel like people get really picky about gifts around this holiday.
But no matter what you pick from this list, I hope you make it more of a holiday about you! Seriously, bust out the self-care like there's no tomorrow. If you don't have a significant other to celebrate with, grab some girlfriends and make an evening out of it. I'm sure we could all use a fun night.
Valentine's Day has been making a shift towards self-care in recent years, and I'm so happy it is! You can pick any of these clean beauty gifts for Valentine's Day for yourself or someone who you truly value. It doesn't have to have any romance at all!
Now that we've reached the end, which clean beauty gift is your favorite? Let me know in the comments below!
Articles Related to Clean Beauty Gifts for Valentine's Day:
Valentine's Day Makeup Products 2021