How to Protect Hair from Heat Naturally
If you love to use heat on your hair but don't want to fry it, these tips on how to protect hair from heat damage will save you! I've got all kinds of natural heat protectant hacks to try out that will extend the life of your hair until its next trim. Let's get into it!
Pin this image for later!

This post contains affiliate links. You can learn more here.
How Can I Protect My Hair from Heat Damage?
You may not like my answer to this, but the best way to protect your hair from heat is to not use it at all. But the more realistic answer is to limit your use of heat and styling tools to give your hair a break.
This includes blow drying, straightening, curling, any form of heat at all! This even includes hot showers. Heat is heat. That's why you often hear that you shouldn't shower every day, among other reasons like having a healthy microbiome for your skin.
Heat causes damage to your hair by exaggerating split ends that have already started to form. It's true that heat won't cause split ends on its own, but it's certainly not helping. The energy from heat will penetrate the hair shaft and make any split ends climb up higher, frying the ends of your hair.
The best way to protect hair from heat is to stop the heat from penetrating the hair shaft in the first place. And you can do that by applying natural ingredients that will add a protective coating to your hair and prolong its life. Luckily, there are plenty of options for this!
How Can I Protect My Hair from Heat Naturally?
The best natural heat protectant is any kind of oil or butter that will provide the heat barrier I talked about earlier. Oils are not only good for protecting your hair from heat, but also from further damage like friction and weathering the elements.
My personal favorite oil for heat protection is Argan oil. It's my favorite nourishing oil for pretty much anything! It's full of fatty acids and vitamins that keeps hair and skin super moisturized. In fact, I used straight Argan oil on my face every day as moisturizer when I first started my clean beauty journey because I was a broke college student at the time.
Argan oil creates a strong moisture barrier around the shaft of your hair to protect it from heat, while also moisturizing your hair to repair any past damage as well.
To apply, I prefer to take about one pump's worth from this Argan oil and run it through your hair while it's still damp from the shower. Then you can blow dry and style like normal. I don't like to apply oils to my hair when it's dry because it doesn't soak in as easily. But my hair is thin and overly sensitive to how much oil I put in it, so you should be fine.
Other oils and butters that work great as heat protectants include:
All of these should work great for any hair type, except for the Shea and Cocoa butters. If you have thin hair, I would steer clear of using butters altogether. If you have thick hair that has a lot of damage, then butters will be your best friend.
What is The Best Hair Protectant from Heat?
Other than using oils and butters to protect your hair from heat damage, the best hair protectant is prevention practices! That means regular hair treatments that heal your hair from damage and promote growth.
I've got a post all about deep conditioning hair treatments that you can do at home. You should be doing your favorite deep conditioning treatment at least once a week, depending on the level of damage to your hair.
If your hair's health is pretty solid, then I would do a treatment maybe once every two weeks. Or, if your hair could use some TLC, go with once a week and alternate between ingredients so that your hair can get a healthy "diet" of vitamins and minerals.
Protecting your hair from damage 24/7 is the best way to maintain its health so it can withstand any heat that you throw at it. My popular post on hair growth hacks that no one talks about helped me a ton when I was on my hair growth journey.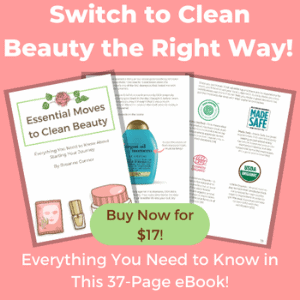 Josh Rosebrook Serum Spray | The Most Natural Heat Protectant on the Market!
If you'd rather have the comforts of simply buying a heat protectant and using it when you need it, I've got you covered! Unfortunately, there aren't very many heat protectants out there that actually preserve your hair's health while being 100% natural.
But I've found a diamond in the rough! The Serum Spray by Josh Rosebrook is several products in one. It softens, smooths, and makes hair much more manageable for styling. Oh, and it's a great heat protectant too!
The Serum Spray contains aloe vera and a mixture of essential oils that works great on all hair types. If you're looking for a super simple solution on how to protect hair from heat while straightening, then I highly recommend you give this heat protectant a shot! It's been highly reviewed for several years.
Homemade Heat Protectant for Hair
I've got you covered if you'd rather make your own heat protectant, don't worry! When I first started my clean beauty journey, I made almost everything myself. That included lotion, shampoo, everything. But I've since learned that you don't have to make everything yourself.
As I digress, the simplest way to make your own heat protectant is to simply combine an oil (like Argan oil) with water in a little spray bottle. Just keep your oil to water at a 1:5 ratio. When it's time to use, just shake the bottle, spray and go!
I like this option because you don't have to wet your hair first, so it's great if you want to style second-day hair. Which, by the way, is one of the best days to use heat on your hair because your scalp's oils can provide some extra protection.
A Few Extra Tips on How to Protect Hair from Heat Damage
In addition to using a good heat protectant and practicing regular hair treatments, I've got some extra hacks to make your hair last longer in between hair cuts to help with heat damage:
Apply your conditioner at least 20 minutes to dry hair before you shower—The drier the hair, the more absorbent it is. This is a great option for anyone with colored or severely damaged hair that doesn't want to cut off any length.
Use a low heat setting—Your hair doesn't need to be boiled to dry fast! Always blow dry on its "warm" setting, and don't turn your curling irons higher than they should be. Also, try to take warm instead of hot showers if you have to shower every day.
Use good heat tools—Go for porcelain instead of metal for flatirons and curling irons, and make sure that you can adjust the specific temperature of a styling tool so that you won't be using it longer.
Preserve your curls at night—All you need is a silk night cap! Just clip up your curls however you feel comfortable, put on your sleep cap, and you're good to go!
Final Thoughts on How to Protect Hair from Heat
However you decide on how to protect hair from heat, just remember that prevention is key!! This goes for hair growth hacks and limiting your usage of heat in general. I used to use a substantial amount of heat on my hair every morning during high school. And I paid dearly for it by the time I got to college.
If you don't have to be anywhere right after your shower, let your hair air dry as much as possible. And if you curl your hair, put it up in a night cap to help preserve them and prevent frizz.
And you don't have to spend a ton of money of natural heat protectants if that's not how you roll! Just apply a mixture of Argan oil and water to your ends before styling. I promise that it will help you go miles with avoiding heat damage down the line.
Have you tried natural heat protectant? Let me know in the comments below!
Related to How to Protect Your Hair from Heat:
How to Protect Hair from Heat Damage Naturally