Best All-Natural Affordable Skin Care
There are so many options for clean beauty, how are you to know which ones are the best? I've compiled a list of the best affordable natural skin care products that have a cult following I'm totally a part of! I've used and loved these products myself, so I'm ready with my opinions.
But before we get into the list, we need to talk about the importance of clean skin care! I want you to feel empowered about what you put on your body every day. And you can do this by understanding ingredient lists and what they really do to you over time.
Pin this image for later!
This post contains affiliate links. You can learn more here.
Is Natural Skin Care Really Better?
Yes, it is a million times better! There are so many practices in the cosmetics industry that compromise our health. And there are no regulations to protect us. You would think that organizations like the FDA would make sure that certain ingredients wouldn't wind up in our daily-use products, but that thinking is wrong, unfortunately.
There are thousands of ingredients in our beauty and personal care products where we have no idea what they do to us long-term. And to top it off, our products contain ingredients that have been proven to cause hormonal imbalance, skin irritation, and even cancer.
I promise I'm not trying to use the fear mongering tactic to make you switch to cleaner beauty products. But you deserve to be an informed consumer! There is no formal definition of "clean" in the beauty industry, so clean beauty tends to look more like a spectrum rather than black and white rules.
It's true that your shampoo won't land you in the hospital, but all of those harsh ingredients can add up over time. That's why I highly recommend you do some independent research and start your own clean beauty journey.
I've been on this journey since 2012 and it's something that I take very seriously for multiple reasons. So I tend to be on the strict end of the clean beauty spectrum. But I've also learned how to find balance and not be "that girl" in certain situations.
Simply start with this article and work your way from there! Essential Moves to Wellness has all kinds of resources to guide you along your journey. Gradually switching out your skin care with safer alternatives is a great place to start.
Is Skin Care a Waste of Money?
It most definitely is not! Skin care is a series of steps to preserve the health of your skin for the rest of your life. It's not an elitist activity that does absolutely nothing. The ultimate goal of skin care is twofold: To prevent aging and skin ailments later in life, and to help nourish your skin now so it can be its best self.
How you go about your own skin care routine, well, that's an entirely different subject. I personally think that skin care routines can get excessive, like anything else in life. But a good skin care routine can be totally unique to you! If you want to use 15 products every day, go for it. Or if you want to keep it simple with two or three, that's also great.
Just base your natural skin care routine off what you feel like your skin actually needs. If you're starting from scratch or have an intense skin care routine, look at each product and ask yourself if you really need it. Depending on the ingredient list and how your skin responds to it, you can make eliminations as needed.
If you're able to, I would strip your skin care routine down to the bare minimum and see how your skin reacts. That means you would only do a cleanser, toner, and moisturizer for roughly a week and evaluate how your skin handled it. You can throw in an exfoliator, serum, and a weekly facial if you think you need it.
As for actually picking clean skin care products, I've got you covered. The following list is full of clean skin care that is actually natural and will do wonders for your irritated face!
What is the Best Natural Skin Care?
I know it can be hard to find natural beauty products without any sneaky ingredients, but these skin care items are well-known for their stellar ingredients. In fact, all of these companies are great for switching to cleaner products.
The companies for all of the products listed truly pride themselves on providing natural options with no questionable ingredients. You can check them out individually, or you can find them on just about any clean beauty marketplace. Now let's get into the good stuff! Starting with a super simple cleanser.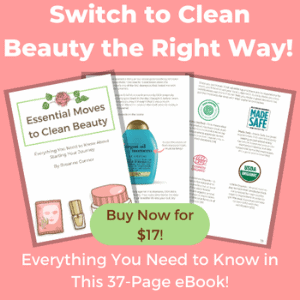 Cocokind Oil to Milk Cleanser
I love to recommend this cleanser to anyone looking to redo their skin care routine and start from scratch. It's also great for those with super sensitive skin. The Oil to Milk Cleanser by Cocokind is a prebiotic cleanser, meaning it helps rebuild your skin's microbiome.
Thanks to ingredients like sulfates, our skin is almost always irritated to some degree. Sulfates are a key ingredient in just about every soap out there, because it helps create a lathering effect. The only problem is that sulfates were originally designed to clean car engines, and not skin. It's simply too harsh for our sensitive skin.
Using a cleanser with prebiotics helps restore all the damage from years of sulfates. Your skin's microbiome is all the good bacteria on you that help keep your skin nourished, moisturized and healthy. You use pre and probiotics to help with your digestion, and your skin works in a very similar way.
I personally use and love this cleanser in between an exfoliator and my skin loves it! There's no super distinct smell, although it does have a slight scent to it that I can't quite describe. It's not annoying at all though. It does a great job of melting away my favorite foundation, although it's not thorough enough to get rid of my mascara. I still recommend using a makeup remover for eyes. But it leaves my skin feeling clean but not stripped, which is a huge win in my book!
100% Pure Coffee Bean Caffeine Eye Cream
We all want those bright eyes that make us look like we sleep for eight hours every night, right? Well, here's the natural version of a luxury eye cream using plant-based ingredients! This eye cream from 100% Pure uses the power of caffeine from coffee grounds to de-puff and brighten eyes.
You can also find caffeine from green tea on the ingredient list, which has way more benefits than de-puffing your eyes. Green tea is fantastic for your skin because it also supplies some much-needed antioxidants. This will help strengthen and fortify your sensitive area around your eyes.
100% Pure is one of the many brands that I trust enough to simply grab a product from them without giving it much thought as to whether or not it's truly natural, which can be a huge sigh of relief sometimes. This eye cream in particular has won several awards because it's made with great ingredients, it's effective, and it doesn't cost an arm and a leg!
This clean skin care product alone can show you that you don't need a bunch of questionable ingredients to have an effect on your skin. Simply going back to nature is all you need to do to achieve healthy, youthful-looking skin!
UpCircle Organic Face Serum with Coffee Oil
Facial serums can get pretty pricey, so I was thrilled to discover this very affordable option recently! This facial serum by UpCircle uses a very basic formula that I think works great as a first-time serum.
I didn't understand the point of facial serums until recently. I mean, you're already using a moisturizer, why would you need a serum on top of it? Then I realized that a serum does a lot more than a moisturizer would ever do. It has more potent ingredients that get deep into your skin to keep things young and supple.
I recently discovered UpCircle, and I love their brand messaging! All of their products are made with repurposed ingredients. Take the coffee oil in this serum, for example. It was made from coffee grounds that were bound for the landfill, but they found another purpose instead. If you love helping the environment, then this is your brand!
I am in love this the mixture of essential oils in this serum because it's rich in vitamins and antioxidants to keep your skin looking bright and youthful, but it also smells amazing. You've got bergamot, rose, geranium and vetiver for an uplifting combination that will make your morning that much easier.
My one piece of advice is that I wouldn't put this serum on at night. Like I said, it's very uplifting, so it might hinder your sleep. But if it seems like you'll sleep just fine, then by all means apply it as much as you need.
Heritage Store Rose Water Toner
This is one of the first natural skin care products I ever tried and I'm so excited to introduce it to you! Even now, I still use this stuff on my face every single morning. As you can tell from my blog's logo, I absolutely love roses for multiple reasons, other than the fact that they are absolutely gorgeous flowers.
When roses are boiled to create rosewater, all the benefits of the flower can be used by your skin. Rose water balances the pH of your skin's barrier, evens out your skin tone, and even helps control oil production. As someone with very oily skin, I need all the help I can get.
Just spray some rose water on your face once to several times a day. There's no limit as to how much you can use this stuff! It works as a fantastic toner for me because it's super gentle and helps to lift up my mood in the morning.
Oh, and did I mention that this is one of the cheapest items on the list? Seriously, you can get a spray bottle of rose water that will last you well over a year for under $10! Think of all the money you could save on expensive toners and use on something else.
Acure Seriously Soothing SPF Day Cream
Yet another necessity in my daily-use beauty product regiment by one of my favorite brands. Acure is an American-made brand of hair and skin care products that was founded in honor of the CEO's late grandmother who lost her battle to breast cancer.
Acure is one of my favorite brands because they offer both basic and advanced skin care products that are available pretty much anywhere! I have a full Acure review to help you find some stores that carry them, but I want to talk about this daily moisturizer.
I love that this moisturizer has some SPF in it, because we should be wearing that on our face every single day! Yes, even if you work at home and stay inside all day long. You want to protect that sensitive skin from sun damage.
And not only that, but the formula of this moisturizer is meant to be extra soothing for sensitive skin types. The blue tansy oil will help calm and restore your skin while the SPF protects it from the sun. It also goes on great and leaves my skin feeling moisturized by not heavy.
Meow Meow Tweet Rose Geranium Deodorant
I love Meow Meow Tweet for so many reasons! You've got the cute packaging, fantastic ingredients, and they're super sustainable. Seriously, Meow Meow Tweet is one of the few clean beauty brands that take zero-waste packaging very seriously.
An affordable natural skin care routine wouldn't be complete without this brand! People often forget that deodorant is a form of skin care too. And it's so very important, because the ingredients in deodorant are some of the worst out there. You can often find heavy metals in traditional deodorant, which have been proven to be a carcinogen, or a cancer-causing agent.
Luckily, deodorant is a very affordable clean beauty option thanks for brands like Meow Meow Tweet. Their deodorants are formulated without baking soda, which is huge in the natural deodorant scene. Most natural deodorants use baking soda, which can cause severe reactions. You can read all about my own journey to finding the best natural deodorant to save you some time and heartache.
The rose geranium deodorant comes in a compostable tube, smells amazing, and it doesn't make my underarms feel irritated, which is a huge win! It's a favorite that I love to recommend for budget natural skin care because it's such a necessary thing that we use every day.
Acure Charcoal Lemonade Facial Scrub
It may seem like exfoliating your face is a totally unnecessary step in a non-toxic skin care routine, but it's worth doing! It keeps my face from feeling heavy and full of extra gunk. This charcoal lemonade facial scrub from Acure gently gets rid of all that extra weight from my face while leaving it feeling fresh and balanced.
I don't know about you, but I've never found most exfoliators to be that effective. Whatever granules are used never seem to truly get rid of all the dead skin for me. But this one totally works! And the blessing is that my face never feels over-stripped. It's specifically designed to gently but thoroughly get rid of dead skin. I have an Acure review that tells you all about why they're one of my favorite skin care brands!
I use this facial scrub about every two to three days in between regular washings. It smells great, but it's not overbearing at all. I also can't smell the lemonade, but that's not a huge loss to me. I'm more impressed with the cleaning power of the charcoal.
What is the Most Affordable Skin Care Line?
I want to make it clear that there's no "holy grail" skin care line because everybody's needs and budgets are different. But if I had to choose, I would say that Acure is the most affordable skin care line because all of their products are natural, effective, and very affordable. They've seriously helped me dive into the natural skin care world!
Affordable natural beauty looks different on everybody depending on their own unique life circumstances, so this might not be the best skin care line for you. But they're definitely worth trying out! They've got some of the best natural beauty products with a great message.
Final Thoughts on Affordable Natural Skin Care
Whether you decide to fully dive into clean beauty or not, I hope this list of affordable natural skin care gave you some new ideas to try out. Like I said, clean beauty is a spectrum, not a super-strict rulebook.
If you're unsure of what is actually working in your skin care routine, go back to basics and find out what your skin really needs. You might be surprised at how little it actually needs to look young and bright.
I hope I gave you some new skin care inspiration! All of these brands are worth looking into and trying out for yourself.
Which of these affordable natural skin care options is your favorite? Let me know in the comments below!
Related to Affordable Natural Skin Care:
100% Natural Skin Care