The Best Nontoxic Stage Makeup
If you think regular makeup is full of toxins, stay far away from heavy-duty performance makeup! Instead, try these natural alternatives for a chemical-free stage makeup look. I also use these products every day too, but I almost never use them all at once like this. In fact, I don't wear makeup at all most days.
What makes these products "stage makeup worthy" is their ability to stay put and look great. I wore all the products you're about to see at my summer recital, and they held up perfectly! Even though I was sweating buckets for over four hours!
Pin this image for later!
This post contains affiliate links. You can learn more here.
Primer: Jane Iredale Smooth Affair for Oily Skin
I absolutely love this primer for getting rid of large pores! It preps my skin perfectly for the cream foundation I put on after. And a little goes a very long way. It absorbs into my skin easily after I moisturize, and it has a light citrus scent that I was not expecting. The amount you get is pretty hefty too. I don't think I've even put a dent into my tube yet!
I know it's a little on the pricey side of things, especially for me as a makeup cheapskate. But there are some things that you shouldn't skimp out on in terms of chemical-free stage makeup. Jane Iredale's primer acts as a base for your makeup, and helps it stay put longer, so shouldn't you start out with a strong base?
Foundation: 100 Percent Pure Water Foundation.
I was in the market for a new foundation for my chemical-free stage makeup arsenal, and I decided to give a fruit pigmented foundation from 100% Pure a go. And I'm so glad I did! This foundation has probably the best coverage I've ever come across, and I've tried a lot of big brand foundations!
I love that it comes in the form of a squirt-able container. That way you can just squirt however much foundation you need onto the back of your hand, then use a beauty blender to set everything into your skin. I'll admit that it does feel a little on the thick side when you apply it, but I've never had it cake or slide off my skin. Once you blend this foundation into your skin, that sucker is there to stay.
I also highly recommend that you start with a sample before buying this foundation. You can experiment and decide which tone is best for you. 100% Pure has three sections for their shades: cool, warm, and neutral tones. I'm more of a cool-toned person, and after a few samples, I found that "Sand" is best for me.
Concealer: Jane Iredale Active Light Under-Eye Concealer
I use this concealer for my chemical-free stage makeup looks, as well as every day! This concealer was designed specifically for hiding dark circles under the eyes, and I love it! This is one of my biggest insecurities, and it makes my eyes look bright and rested.
This under eye concealer comes in a tube that lets you apply how much you need right onto your skin and blend. One thing that caught me off guard was its light, pleasant scent. I can't describe it very well, but it makes me feel put together and happy. You can't smell it from the tube, but I often smell it on my fingertips afterward.
I'll admit that this concealer can also be a little thick, and can pull against any dry skin. So make sure that your under eye area is moisturized and exfoliated. Otherwise, it will blend in great. I got mine in the shade "light peach." I also use this concealer as an eyeshadow primer on my lids, and everything stays perfectly in place!
Finishing Powder: Jane Iredale Amazing Base Loose Mineral Powder
To finish off my chemical-free stage makeup foundation, I use this mineral powder to set everything in place. The coverage is great, and it helps provide an extra layer of protection for when things get extra sweaty.
I use this powder with the primer for an everyday foundation, and it works great on its own. But what I love most is how it keeps my face looking matte and flawless no matter what. My color is Satin, and it complements my skin tone perfectly. I think it even darkens a tad as it warms up to my skin, giving me a nice tanned glow.
My one complaint is that the powder can travel trough the air pretty quickly…and land everywhere else. Whatever excess I tap off that doesn't make it back to the container usually leaves a thin coating on my hands. Luckily, cleanup has never been a problem.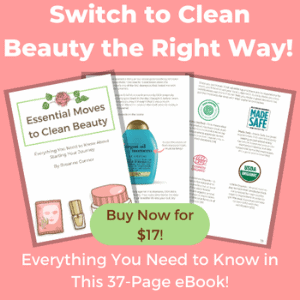 EyeBrows: Jane Iredale Retractable Brow Pencil
Jane Iredale offers both brow pencils and a gel, but I love the retractable pencil because you can create such authentic-looking eyebrows! You can shape and layer as much as you want without looking too fake. Which is great for a chemical-free stage makeup look!
I use and love the color "brunette" for my barely-there eyebrows. It complements my golden blonde hair without overpowering my face. To apply, I just draw quick little strokes in the same direction that my brows grow. It does a good job of enhancing what I've got while filling in everything else.
My one complaint is that I wish it could last longer! It was a sad, sad day when this eyebrow pencil ran out. I still keep it in my makeup bag though, because I love the brush on the other end for combing my brows in place.
Eyeshadow: Honeybee Gardens Cosmopolitan Palette
This is one of my favorite basic eyeshadow palettes! I love using neutrals and pinks, and this palette certainly delivers! You get four colors perfect for both everyday and stage looks: A deep brown "Kashmir," shimmery gold "Satin Sheets," a beautiful "PS Pink," and a shimmery "Angelic" pink.
If you want to go for a more feminine look, you can use the pinks, and contrast it with the beautiful brown. The gold color also adds a nice touch to the inner corner! I never thought pink would look good one me. I was more of a brown and gold kind of girl. But the pinks in this palette really complement my hazel eyes!
I get compliments from people all the time when I wear this eye shadow, and I've never had any issues with them creasing. They're versatile, pigmented, and won't budge! Honeybee Gardens is one of my favorite natural makeup brands for the quality and price. You can see even more great makeup options on my Honeybee Gardens review.
Eye Liner: Honeybee Gardens Effortless Eyeliner
This eyeliner from Honeybee Gardens is the only eyeliner that I love to use both on a daily basis and for my chemical-free stage makeup routine. You can put it on light, or make it dramatic for onstage. It promises smooth and silky application, which I can definitely agree with. And I love the Belgian Chocolate shade for a natural look!
Honeybee Gardens is a very accessible brand, if you have have a health food store near you. I love stopping by their little display at my Natural Grocers. The price of this eye liner is pretty affordable, too, compared to some higher-end natural beauty brands. Which makes my inner makeup cheapskate very happy!
Mascara: Honeybee Gardens Truly Natural Mascara
Yet another Honeybee Gardens pick, I've used and loved this mascara over many others. I've actually got a post all about my review and comparison to other brands I've tried on the best natural mascara.
But to break it down for you, I love this mascara for its texture, durability, and adjustable drama. You can layer it for a chemical-free stage makeup look, or just use one coat for everyday use. This mascara even has a pleasant smell to it, which I'm not mad about at all.
Create the Ultimate Chemical-Free Stage Makeup Arsenal
I hope that I've given you inspiration (and a few new brands) to try for your next performance. And don't feel confined to just these options! This is just what I've found works the best. Feel free to play around with samples and find something your skin loves.
You may find that you like Honeybee Garden's foundation better than Jane Iredale, or you may dislike a brand entirely. Just do your research on a new company and don't be afraid to give it a go!
I know that most of these options aren't the cheapest, but I let myself indulge a little on things that I use for special occasions. You definitely won't see a full face of makeup on me every day! In fact, I always look forward to stripping my face off after every performance!
If you have sensitive skin and need to go the extra mile with some heavy duty makeup, there are plenty of natural options that get the job done just fine. So don't compromise your skin's health for one night of glam! Why not have both healthy skin and great makeup?
What are your favorite natural makeup brands? Let me know in the comments below!
Related to chemical-free stage makeup:
Organic Costume Makeup
SaveSave
SaveSave
SaveSave
SaveSave
SaveSave
SaveSave
SaveSave
SaveSave
SaveSave