This rosemary hair rinse recipe will accelerate hair growth and promote a healthy scalp. And it's so easy to make!
So you want to grow out your hair long, strong, and super-fast. I mean, who doesn't? And I've got just the trick to help you along with your hair growth journey using a super easy rosemary hair rinse.
There are a couple of ways you can go about making your own rosemary water for hair growth. I'll go into both ways in detail, plus give you a few more tips for optimal hair growth results.
Rosemary Hair Rinse Benefits
Rosemary is good for your hair because it increases circulation in your scalp, which then stimulates the hair follicles to grow faster. It's one of my favorite secret hair hacks!
The secret ingredient in rosemary is ursolic acid, which can also be found in the peels of fruit. Ursolic acid is anti-inflammatory and an antioxidant, which means that it can help calm an inflamed scalp while bringing more oxygen and nutrients to the hair follicles.
It basically creates an ideal environment for hair to grow faster, or for new hair to start growing again.
Another thing worth noting is that rosemary can slightly darken your hair over time if used regularly. I've even seen people dull out their gray hairs with a rosemary hair rinse!
If you're trying to lighten your hair or don't want it to go any darker, I wouldn't use this herbal hair treatment too regularly. You certainly won't see a dramatic change overnight, but your hair might darken a shade or two if you use this hair rinse regularly over the course of two to three months.
As someone with dirty blonde hair, I've never noticed any change in my color because I only use this rinse one a month or so.
The high number of antioxidants in rosemary are what's responsible for darkening your hair over time. They revitalize your hair and remove any product buildup, which is great, but it can also remove any free radicals that lighten your hair as well.
That's why I don't recommend this rosemary hair rinse for color-treated hair, because it can throw off the hue. However, I personally think that the pros outweigh the cons if you're trying to grow healthy hair.
Is Rosemary Rinse Good for Hair?
Now that you know what the actual herb is all about, you may be wondering if rosemary-infused water will have the same properties. The short answer is yes! You can wring all those good nutrients out of rosemary and create a brew your hair will love.
I will say, however, that you will get the full benefits of rosemary water if you follow the instructions I have below. But don't worry, it's not rocket science. I have two routes for you to go down that you can make in one day, or over the course of a couple weeks.
Since it obviously won't do you any good to simply take some rosemary and rub it on your scalp (I mean, you would still smell good), rosemary water is the next best thing for your hair to actually absorb and use all that hair growth magic.
This rosemary hair rinse was a huge help on my own hair growth journey. I started out with thin hair that refused to grow past my shoulders, but when I switched to clean beauty products and did regular hair treatments, everything changed.
How Often Should I Put Rosemary Water in My Hair? Can You Leave Rosemary in Your Hair?
Of course you can! It's possible that spraying rosemary into your hair without rinsing it out can heighten its effects, but I personally think it won't improve them by much.
But hey, I still think it's worth it because it smells great and improves your mood. It can also help soothe your scalp while keeping your hair light and bouncy.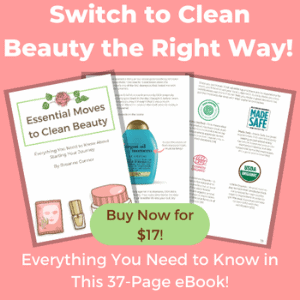 You can apply this Rosemary water spray for hair growth success as often as you like! But I recommend you rinse in the shower no more than once or twice a week.
Rosemary Hair Rinse Two Ways | Infused and Boiled
Now onto the good stuff! Like I said earlier, there are two ways you can go about making your own rosemary hair rinse.
The pictures in this post are from me doing the longer way, which is rosemary-infused apple cider vinegar. I highly recommend this method if you're looking to get rid of any gunk on your hair and start fresh.
Yield: One Mason Jar
DIY Rosemary Hair Rinse
This rosemary hair rinse will help with hair growth and create a healthy scalp! Just rinse your hair with it once or twice a week for best results, or spray it on dry hair every day.
Materials
Instructions
1. Simply add in your rosemary sprigs, cover them with the apple cider
vinegar, and seal the mason jar lid. Make sure you store your rosemary
hair rinse in a cool, dark place, like your fridge.

2. Let it sit for minimum two weeks so all the goodness from the rosemary soaks into the apple cider vinegar.

3. Give the jar a good shake every few days or so to evenly distribute
everything. It should last you a good week or two as long as you keep it
cold and away from regular sunlight exposure.

4. OR combine your rosemary and water into a saucepan and bring the water to a
boil. Once boiling, reduce the burner to a simmer and cover the pan to
no evaporated oils are lost.

5. Let it simmer for about five minutes before removing from heat entirely to let the water cool. Do not remove the cover!!

6. For both methods, strain out the herbs and put your spoils into a squeeze bottle. I like this better than using something like a cup because it gives you more
control.

7. Apply to your hair after shampooing, let it sit for a minute, then rinse thoroughly. That's it!

Notes
You can make this into a daily rosemary hair spray by diluting the mixture with one part water. Then mist your hair and/or scalp as needed. It will keep your hair long and strong while soothing your scalp.
How to Make Rosemary Water for Hair
I totally understand that this method takes too much time. That's why there's another equally effective method for making your own rosemary hair rinse in just a couple of hours. You don't need apple cider vinegar either!
If you make a rosemary hair rinse with apple cider vinegar, you need to dilute it because it's too acidic for your hair on its own. I like to do one-part infused apple cider vinegar to two-parts water.
When you're done shampooing and conditioning in the shower, you can rinse your hair with rosemary simply by pouring the mixture over your head and letting it sit for a minute. You can even massage your scalp for better effects!
When you feel like you've had enough, gently rinse the mixture out of your hair and go about the rest of your shower routine. That's it!
Rosemary and Sage Hair Rinse for Fast Growth
If you're able to, I highly recommend that you add more herbs for better hair growth results. I happened to have some dried sage on-hand when I wrote this post, so that's why the pictures don't look like there's only rosemary in the jar.
Sage is excellent for hair growth because it also promotes a healthy scalp and darkens hair over time. In addition to this, sage is good for thinning hair because it strengthens the hair follicle while promoting healthy, fast growth. Not to mention it also smells amazing!
Just add a few sprigs of sage to your jar or pot of water and do everything else like normal. Your hair will thank you for the refresh by rewarding you with lots of strong, healthy new hair!
How Long Should I Leave Rosemary in My Hair? A Recipe for Everyday Use
If you want to naturally darken your hair, calm an angry scalp, or promote some serious hair growth, then you should definitely try a daily rosemary hair spray. You can totally put rosemary on your hair every day!
I recommend that you do this with the infused rosemary water rather than the apple cider vinegar. You don't want to throw off your hair's pH with repeated exposure to an acidic substance. How you make the hair spray couldn't be simpler! Just take your freshly made rosemary water and put it into a spray bottle using a handy funnel.
Then just spray it on your hair and scalp every morning when you're getting ready and go! No need to dilute or do anything special.
You'll have a happy and healthy scalp that smells fresh and clean all day long. You can also apply this rosemary hair spray after you finish a workout to help combat sweat and smell. It's great for lengthening time between hair washings!
Final Thoughts on this Rosemary Hair Rinse
If you're looking to grow your hair super-fast, or grow new hair altogether, then rosemary and sage will be your best friends. The nutrients and antioxidants will get the blood flowing up to your scalp, which promotes healthy hair growth.
Just be mindful that your hair may darken a bit if you use this regularly for a few months. It won't be dramatic at all, but it will be noticeable if you do it enough. I think it's a great way to go darker naturally as the seasons change, but that's just my two cents.
Have you tried a rosemary hair rinse? Let me know in the comments below!
Articles Related to This Rosemary Hair Rinse:
Pin this image for later!

How to Use Rosemary Water for Hair Growth