Exfoliate Before or After Shaving
Combine several steps into one with this super simple and customizable sugar scrub recipe! If you hate all the little chores you need to get done in the shower in order to look good, this post is for you. Learn how to use sugar scrub when shaving for your best skin ever this summer (or any time of the year).
Shaving is such a drag, and there are so many things you need to do to make sure you don't get things like razor bumps or nicks. A simple solution is to have a sugar scrub for shaving on hand to get everything done at once. But you may be wondering, do you use a sugar scrub before or after you shave?
Pin this image for later!

This post contains affiliate links.
Should You Exfoliate After Shaving? Or Before Shaving?
The short answer is that you should be doing both! Exfoliating regularly both before and after you shave is huge for soft, smooth skin. You'll be doing yourself a huge favor if you use sugar scrub instead of regular shaving cream.
Although if you do prefer to use a traditional shaving cream, I recommend you use a natural one without toxic chemicals, like this one here. 
Exfoliating your body certainly shouldn't be an everyday thing, because you don't want to over exfoliate your skin and leave it feeling raw. Those dead skin cells need a decent amount of time to regenerate, anyway.
The best practice for when to exfoliate is about three to four times a week. When you shave during that time is up to you. Although I highly recommend you shave right after exfoliating, which can be a whole other debate.
How Long Should You Wait to Shave After Exfoliating?
I personally think that the time you shave and the time you exfoliate should be as close together as possible. So in other words, you should exfoliate using my DIY sugar scrub, then immediately shave right after. Don't even both rinsing that sugar off!
You don't have to rinse off your sugar scrub because you'll also rinse off that valuable oil, which will be a game-changer when it comes to shaving. You can totally use sugar scrub after shaving, but I think that defeats the purpose because your razor won't get rid of all that turned-up dead skin.
I also highly recommend that you exfoliate the area again a couple days afterward to prevent any ingrown hairs. This is crucial if you shaved a sensitive area! You don't want any new dead skin cells to get into your follicles and cause irritation.
Exfoliating a day before shaving is great if you have very sensitive skin, but I don't think that's necessary. I think doing it all at once will give you the best results. There's no need to make things complicated!
The Best Pre-Shave Exfoliator for Legs
This DIY sugar scrub recipe I'm about to show you combines exfoliating, moisturizing, and shaving gel all in one go! And the ingredients are super easy to find! You probably have them laying around the house already.
There are a couple components that give you a close shave with this sugar scrub. One of these components is the moisture provided by the oils in this recipe.
What makes a good sugar scrub is not just the sugar, but the oils that go with it. The oils that you rub into your skin with the sugar gives some much-needed lubrication for you razor. You will be able to glide your razor right over your skin without any problems, which means that you'll get those razor blades closer to your skin for a longer, smoother shave.
Shaving without some kind of lubricant is like trying to go four wheeling in a city-bound sedan. It just won't work as well. And yes, I have actually gone four wheeling in a sedan without any accidents, but that's beside the point.
The Power of Exfoliating
The second major component of how to use sugar scrub when shaving is the exfoliating power. This is one of the most underrated parts of good shaving habits! You don't want all that dead skin to get into your freshly shaved hair follicles.
Sugar is one of the best natural exfoliators out there. The small granules of the sugar enable it to get rid of every little piece of dead skin, leaving behind glowing new skin. Sugar is also gentle enough to use on sensitive areas, like the bikini line. It can even help open up ingrown hairs! You can read more about how to heal ingrown hairs in one day if you suffer from razor burn like me.
I can certainly see a difference in my legs whenever I use a sugar scrub. Beforehand, I can usually see the dead skin starting to form all over my shins. After my shower, all the dead skin is gone, and my skin is smooth and looking fresh!
You'll not only have better-looking skin, but healthier skin too. All of those dead skin cells can't get into your hair follicles and cause nasty ingrown hairs. Believe me, I've been there. Using leg scrub to remove dead skin should be part of everyone's personal care routine.
Overall, sugar isn't abrasive to irritate the skin, and it's great for getting rid of the dead skin you didn't even know you had. It's the best exfoliator for legs before and after shaving, in my opinion.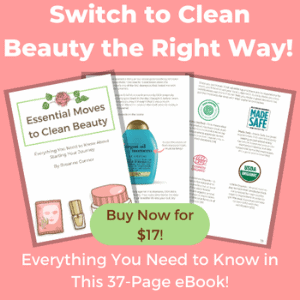 My DIY Sugar Scrub for Legs Recipe
For this recipe, you will need:
Now before I get to the process, I want to give you some pointers on these ingredients. When it comes to white sugar, try to avoid granulated and go for raw. The least processed you can get, the better. Mostly because the larger sugar granules are better for exfoliation than the typical white sugar you see. But if you only have granulated on hand, that's totally fine!
I've included both white and brown sugar to give a bit more variety to the size of the granules. The slightly bigger size of the brown sugar against the smaller white sugar granules will get every piece of dead skin. Plus, brown sugar tends to stick together better than white sugar, so it's a great bonding agent.
How to Make My Sugar Scrub Recipe for Shaving
Combine your sugars and oils together in a glass airtight container. I love using mason jars for sugar scrubs! This recipe makes about one mason jar's worth of sugar scrub. If you want to make less or more, I go by a simple measuring system.
Whatever container you want to use, half of it should be white sugar, a quarter of it brown sugar, and the last quarter your carrier oil.
The essential oils should follow safe dilution rates, which is usually about 12-24 drops, or 1% of the carrier oil's volume. I've used this method for several different containers, and it hasn't failed me yet!
You can customize this sugar scrub recipe however you like! My personal favorite combination is to have jojoba oil with tea tree, lavender, and peppermint. You can take this recipe one step further and add stuff for fun! Think peppermint tea leaves, lavender buds, whatever makes you happy! Just don't use them in a sugar scrub meant for shaving so it doesn't clog your razor.
You can see what I mean in my DIY peppermint mocha sugar scrub recipe, which is essentially the Christmas version of this post. It was a great DIY body scrub gift for my family! So have fun with this recipe and give it your own personal style. That's what clean beauty is all about.
Get the Best Essential Oils from Rocky Mountain Oils
As for the oils, I've got some recommendations for you. Rocky Mountain Oils is my personal favorite company for high-quality essential oils. You can read my in-depth review of Rocky Mountain Oils, but I'll give you the run down as well.
Rocky Mountain Oils is one of the most transparent companies I've come across when it comes to what's in their products. And their prices are extremely reasonable for such high quality. They even have free shipping within the U.S. over $25! Trust me, it's a minimum you can get to no problem.
Rocky Mountain Oils has a great selection for nourishing carrier oils, some of my favorites being sweet almond and jojoba oil. I would recommend either one of these carrier oils for learning how to use sugar scrub when shaving.
If you have no idea what a carrier oil is, they're super important to maintain safe essential oil practices. I've got an essential oil safety guide that explains everything. You can add in some essential oils for an extra kick.
Some essential oils I recommend are tea tree, lavender, peppermint, or orange. They can provide some nice aromatherapy benefits, but you also want an oil that's good for the skin. I personally love to do a combination of tea tree and lavender, because of the soothing and antibacterial properties they possess.
How Do You Shave with Sugar Scrub?
While this sugar scrub is great for shaving and the health of your skin, I've got a few tips to make things go smoother than your freshly shaved legs. If you do these things regularly and take some precautions, you'll have zero issues.
Always clean out your razor head after shaving! Especially after using something dense like this sugar scrub. Those little granules will get caught between the blades and hinder your razor from doing its job. Plus, it will dull the blades faster.
What I like to do is open my razor and take out the blade for a little rinse-off. I use and absolutely love a safety razor over traditional razors! There's no moisture strip that's riddled with hundreds of gross toxic chemicals, and I get a much better shave. 
If you're curious, I've got the complete guide on how to use a safety razor. It's one of the best decisions I made during the beginning stages of my natural lifestyle journey because it so drastically improved my quality of shaving.
And if life happens, no worries! Annoying things like ingrown hairs are bound to happen sometimes. Or all the time if you're like me and not careful. But I found a great remedy for ingrown hairs and razor burn.
I've got all the details in the post up above, but it's just two ingredients that you probably have lying around the house already. I tried it on myself with truly amazing results. All of my razor bumps were gone in just a couple of hours!
Lastly, make sure that you do a body scrub before you shave! You need all those good oils on your skin to lubricate your razor and prevent any nicks from happening. Using your body scrub after you shave is wasting some good oils. Plus, I like how the razor takes away any excess oils that are lingering on your skin, so you don't leave the shower feeling too greasy.
Some Final Thoughts on How to Use Sugar Scrub When Shaving
Knowing what makes a good sugar scrub is essential to know how to use sugar scrub when shaving. And now you know why. You'll have a nice, close shave, you'll feel moisturized afterwards, and your skin will be fresh and glowing. It's even great for preventing and treating ingrown hairs.
Thanks to the gentle exfoliating power of the sugars, and the moisturizing power of the carrier oils, your skin will be looking and feeling its best. Plus, you can add essential oils from Rocky Mountain Oils for something extra!
Just make sure to follow proper shaving etiquette, like cleaning the razor blades and always practicing preventative care. This includes exfoliation and disinfection to prevent ingrown hairs. And the good news is you've already done all those things with this homemade scrub!
Do you use DIY body scrub regularly as a shaving lubricant? Let me know in the comments below!
Related to How to Use Sugar Scrub When Shaving:
Sugar Scrub Before or After Shaving